Spring Clinic 2020
---
---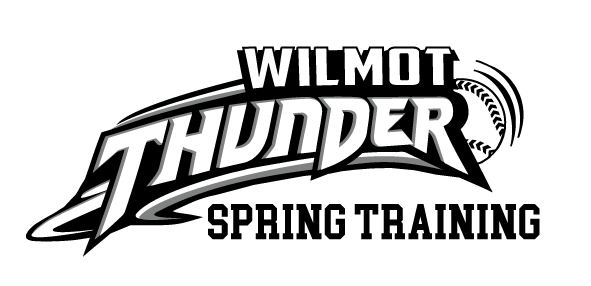 ---
Spring Training 2020
Wilmot Softball Association is once again pleased to offer a spring clinic prior to the 2020 season. This is the 5th year this clinic will be running at the old New Hamburg Arena and is now in its 8th year, its 3rd under Wilmot Softball. The clinic cost is $50 per person for 4 sessions, each (45m T-Ball/Coach Pitch) & 1h30m (for all other groups) in length. 2 sessions are focused on throwing and fielding and 2 sessions are focused on hitting and bunting. You also get an official Wilmot Thunder Spring Clinic t-shirt.
This is a great way to get ready for the season. Meet some of your potential team mates, reconnect with old ones, meet some of your potential coaches and in general have a fun time while getting ready for the upcoming season.
This year we plan to offer the following groups:
T-ball/Coach Pitch
This is a very basic level for beginner softball players and parents. This session is for boys and girls. Parents are required to attend and participate in these sessions with their son or daughter. At this level we teach proper throwing and catching techniques. A specific focus in catching is to teach the players and their parents how to catch fingers up so they prevent getting the ball in the face when catching. We also teach batting and base running.
Tyke/Atom
Drills are a bit more advanced at this level where we still work on proper throwing and batting but start to incorporate more advanced fielding skills.
Squirt and Peewee
NEW for this year: At this level we are doing more moving drills, forehand and back hand fielding, throwing accuracy under pressure and more game related fielding.
Please see the schedules below and if there is a specific group you would like to be a part of then please indication in the comments section when you register online. Please make sure you select the correct package when registering online. If you decide later to register please contact our registrar and he can upgrade your registration package.
Registration opens January 1st, 2020.
This is a great opportunity to advance your child's skills and prepare them for the upcoming season.
PLEASE NOTE: THE GROUPS POSTED BELOW MAY CHANGE DEPENDING ON NUMBERS REGISTERED, CHECK BACK REGULARLY FOR UPDATES.
If you group is sold out, please use this link or go to the Forms section of our website and add your son or daughter to the wait list
http://www.wilmotthunder.com/form/1945